Annunciation
Data di nascita/morte
(1555-1619)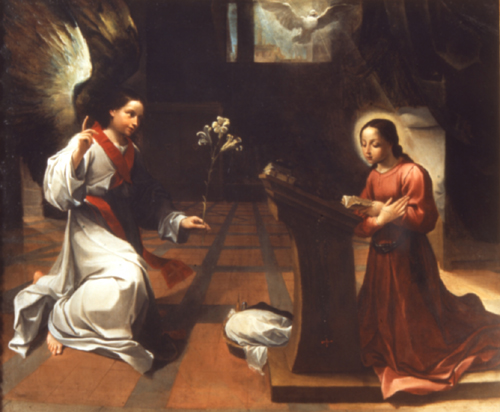 The painting was commissioned by the Secretary of the Confraternity of the Blessed Sacrament for a small room attached to the church of San Giorgio in Poggiale, used for doctrinal education of young people, mentioned in documents as the "meeting room". This specific destination explains the characters in this work, in which the story from the Gospels is interwoven with a precise educational intention.
Ludovico Carracci, one of the protagonists of that reform in painting that in the late 1500s put an end to the sophisticated Mannerist style, proved to be so attuned to the signs that Cardinal Gabriele Paleotti had included in his "Speech on sacred and profane images" of 1582: in keeping with the dictates of the Counter Reformation following the Council of Trent, artists were urged to produce works that could be understood by everyone.
For this altarpiece, executed in 1584, Ludovico used a rigorously central perspective, with the lines of the grid flooring in terra-cotta and grey stone that converge to a single vanishing point, reconstructing what could be the room of any teenager in the popular housing of the late sixteenth century.
The modest furnishings were those most widely used in homes in Bologna during that era, such as the plain two-door cabinet that we glimpse in the twilight background, and the bed on the right.
Mary, wearing a high-necked austere dress, adorned only by a belt, is absorbed in reading a little book of prayers, until she is interrupted by the angel who delivers a lily.
Behind them, a gust of wind opens the window, through which the dove of the Holy Spirit enters.
Here the sacred is no longer the extraordinary event represented in Mannerist painting, but becomes a tangible and familiar experience, so close that in the background, beyond the open window, the faint but reassuring city of Bologna with its two towers is visible.
Also significant is the way that the gospel story is represented, with the Virgin and the Angel depicted as two humble children who seem to belong to the same social class as those children who meet in the Confraternity room.
Measurements
[it]=Misure [en-GB]=Measurements
Medium
[it]=Tecnica [en-GB]=Medium
Year
1584
Provenance
Church of San Giorgio in Poggiale (Suppressions 1866)
Numero inventario
28314
You are here:  

Annunciation