Jesus Christ and the Good Thief
Author
Tiziano Vecellio (Titian) and assistants
Data di nascita/morte
(Pieve di Cadore 1489/90 - Venice 1576)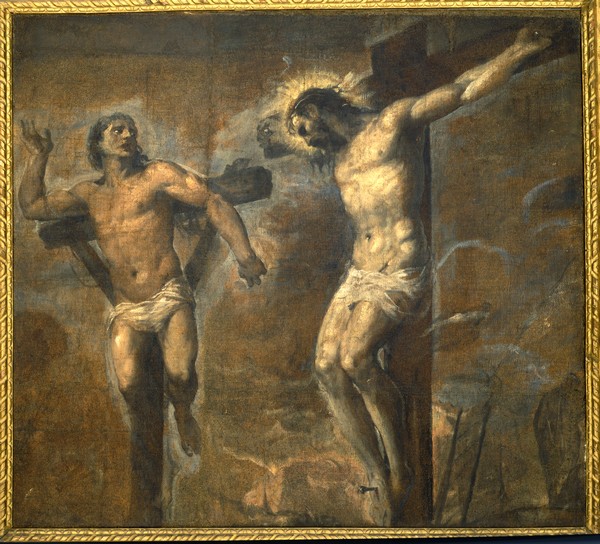 The painting with Jesus Christ and the Good Thief depicted against the backdrop of a livid and cloudy sky is a fragment of a larger composition with the whole scene of the Crucifixion.
In fact, it appears as though it has been cut along the margins and is missing a lower part, as evidenced by the detail of the spear tips, the only testimonial to the group of soldiers that must have appeared in the lower part.
The painting is now accepted as having been painted by Titian.
The complex composition, the quick cursory brushstrokes, the strong contrasts of light and shadow, and the beautiful detail of the body of Christ that seems to be constructed with light, are well in line with the artist's later style.
The canvas of which it was originally a part, can probably identified as the one commissioned to Titian by the rich Venetian merchant Giovanni D'Anna for his chapel in the church of San Salvador in Venice, but it was never delivered and remained in the painter's studio until after his death.
The vertical format of the original altarpiece would explain the extraordinary invention of the body of Christ seen as a glimpse and not frontally as in traditional Crucifixions.
This element increases the dramatic nature of the scene, involving the viewer in the sacred event.
Measurements
135.5 x 149.5
Medium
Oil on canvas
Year
1563 circa
Provenance
Zambeccari collection
Numero inventario
521
You are here:  

Jesus Christ and the Good Thief