The Gozzadini Family
Data di nascita/morte
(Bologna, 1552 - Rome 1614)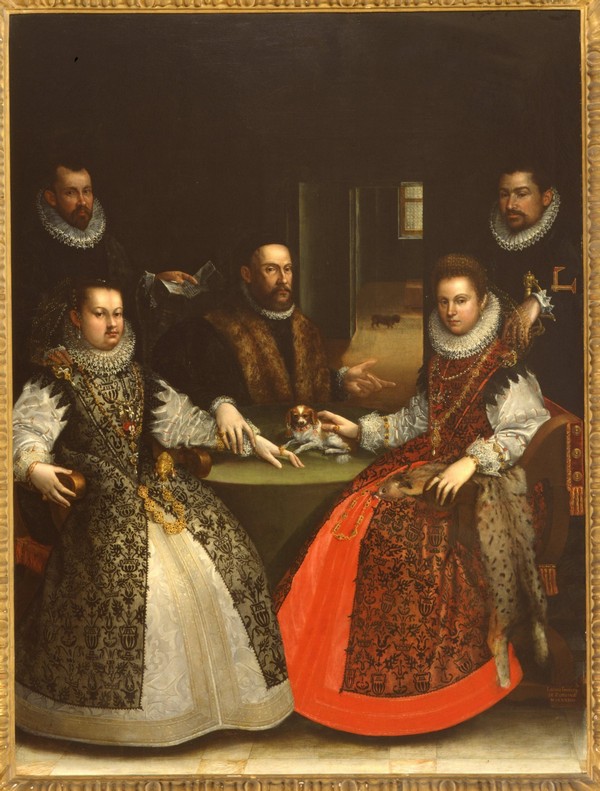 Lavinia Fontana, daughter of the painter Prospero whose canvas with the "Burial of Christ" is visible on the right wall of this same hall, was highly regarded for her skills as a portrait artist.
In fact, in this painting, she proves her ability in expressing complex concepts through a careful description of the faces, clothing and jewellery.
The large family portrait, signed and dated 1584, is one of her most famous works, as the existence of various copies bears witness.
In the shadowy interior of aroma in the Gozzadini home, living and dead family members are gathered around a table in an unlikely conversation, members who can be recognized by the writing on the back of the canvas that bears the names, relationships and ages of those portrayed.
Ulisse Gozzadini, head of the family who had died some twenty years before the painting was made, is seated in the centre, dressed in his senatorial robe.
To his right is Laudomia, who commissioned the painting, and to the left is his daughter Ginevra, already dead at the time of the portrait. Ginevra touches her father with one hand, to allude to their common destiny and is portrayed dressed in white, contrasting with Laudomia who instead, is wearing a bright red dress.
Behind them the cousins and their respective husbands, Annibale, with a letter in his hand to indicate his literary interests or, more likely, his role in managing the patrimony of the two sisters and Camillo, with the sword and the cross of the Portuguese Order of Jesus Christ. The intent of the portrait is to enhance not only the Gozzadini dynasty and its social status, but also the moral values underpinning the household, based on the concept of fidelitas, symbolized by the little dog lying at the centre of the panel.
Thanks to this complex symbolic construction, Laudomia, natural daughter of Ulisse, is promoting herself as legitimate heiress to the family fortune.
Measurements
253.5 x 191
Medium
Oil on canvas
Year
1584
Provenance
acquired in 1922 from Alvise Da Schio
Numero inventario
[it]=Numero inventario [en-GB]=record
You are here:  

The Gozzadini Family